Your unique experience begins with an inventive exchange of ideas with Antoine Rubini. 
As you interchange stories and ideas, Antoine then expertly constructs drawings and ideas and leads you through an exclusive spectrum of rare fabrics woven in every imaginable vibrant color and pattern. Other finishing touches are all considered as a part of the realization of your dream garment.
During the Custom-made experience Antoine will draw together your masterpiece. The resulting designs can't be found anywhere else in the world, with no limits on fabrics, construction or detailing.
Where ideas are personalized and visions are tailored
During our initial conversation in order to better assist you we will ask you some questions in order to assess your personality, style, needs and objectives,  this in turn will allow us to have a solid  idea of what will make you truly satisfied as far as your custom suiting needs 
We Take Pride In Making Sure You Look And Feel Your Best. It Is Our Promise!
As our customer you deserve to receive the best treatment. Our responsibility is the way you look.
-Antoine Rubini
Our objective is to assist you and listen to your needs, we will offer guidance by allowing you to explore all of the different alternatives as far your suiting and shirting needs are concern whether it's for your wedding or for that one important and distinctive up and coming event
Where ideas are personalized and visions are tailored
Your journey with AMR Antoine Rubini Made in Italy starts with a truly innovative exchange of ideas with Antoine Rubini himself.
As you engage in a captivating conversation, sharing stories and concepts, Antoine's creative genius comes to life. With his expert guidance, he skillfully translates your vision into detailed drawings and ideas, ensuring every aspect is meticulously considered.
Explore an exclusive selection of rare fabrics, woven in vibrant colors and captivating patterns, sourced from the finest mills around the globe. Antoine's discerning eye and unmatched expertise will guide you through this extraordinary spectrum of materials, allowing you to handpick the perfect fabric that resonates with your unique style.
But the customization doesn't stop there. Antoine understands that the devil is in the details. Every finishing touch, from buttons and linings to stitching and accents, is thoughtfully considered to bring your dream garment to life. With Antoine's guidance, you can rest assured that every element will align seamlessly with your vision.
During your bespoke custom-made experience, Antoine will merge your ideas and inspirations, crafting a masterpiece that is truly one-of-a-kind. The resulting designs cannot be found anywhere else in the world. There are no limits to the fabrics, construction techniques, or intricate detailing that can be employed to bring your garment to life.
Embrace the extraordinary as Antoine Rubini unveils the exclusive world of bespoke couture. Your unique masterpiece awaits, where the fusion of your ideas and Antoine's unrivaled artistry creates a garment that is a true testament to your individuality and style.
At AMR Antoine Rubini Made in Italy, we understand the importance of creating wardrobe components that are not only stylish but also meet your specific needs. That's why our custom made process begins with a comprehensive evaluation of your requirements. We take the time to understand your preferences, lifestyle, and desired outcome.
Once we have a clear understanding of your needs, we guide you through the process of selecting the perfect fabric. With an extensive collection of high-quality materials at your disposal, you'll have the opportunity to choose from a vast array of options. Whether you desire a luxurious silk for a custom shirt or a premium wool for a tailored suit, we provide approximately 1,500 swatches of fabric for shirts and around 5,000 swatches for suits, ensuring you find the exact look, texture, and quality you desire.
After finalizing your fabric selection, we proceed to the crucial step of taking full measurements. Our skilled tailors use their expertise to ensure every measurement is precise and accurate. These measurements, along with your fabric choices and unique specifications, are then sent to our trusted manufacturers.
With meticulous attention to detail, our manufacturers construct your garments from scratch, ensuring that even the smallest elements, such as the thread on the buttonholes, are executed to perfection. For custom shirts, you'll have the freedom to choose from 12 collar styles, 11 cuff styles, and more, allowing you to create a truly bespoke garment that reflects your personal style.
At AMR Antoine Rubini Made in Italy, we are committed to delivering garments of exceptional quality and craftsmanship. Our custom made process encompasses a comprehensive range of options and attention to detail, ensuring that your wardrobe components are tailor-made to surpass your expectations.
Experience the pinnacle of personalized luxury with our meticulous approach to custom made clothing. Let us bring your vision to life, creating garments that are truly a reflection of your unique style and preferences.
We take your measurements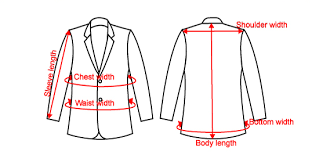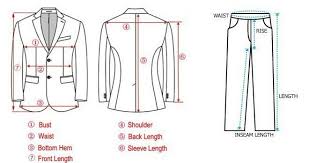 Your Suit will be made in Italy


After 4-6 Week your Suit will be ready to pick up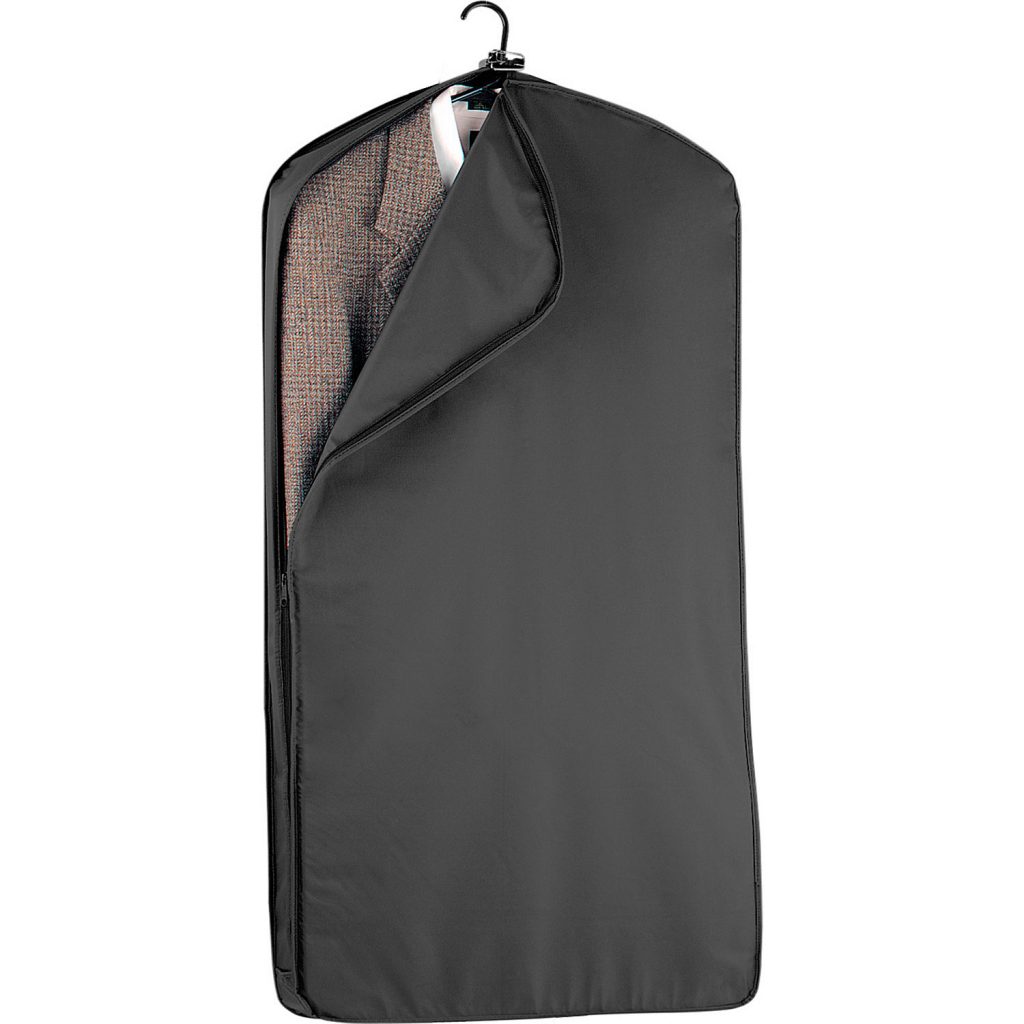 Personal Wardrobe Service
Your time is valuable, which is why we are introducing "We Come to You" This service allows you the luxury of having a personal clothier, dedicated to making your life just a little bit less demanding, in the comfort of your home or office. We start by getting to know you and your wardrobe needs, your style, your personality, your taste. We then take full measurements and give you a variety of options of our finest fabrics to choose from.

Our selection includes wool, cashmere, silk, cotton, and other fine materials which are then crafted into suits or shirts that are perfectly tailored to your body. Having a wardrobe you are confident with, especially one that was made specifically for you, will make you feel and look your absolute best. Schedule your first appointment today and we will come to you with our knowledge and expertise.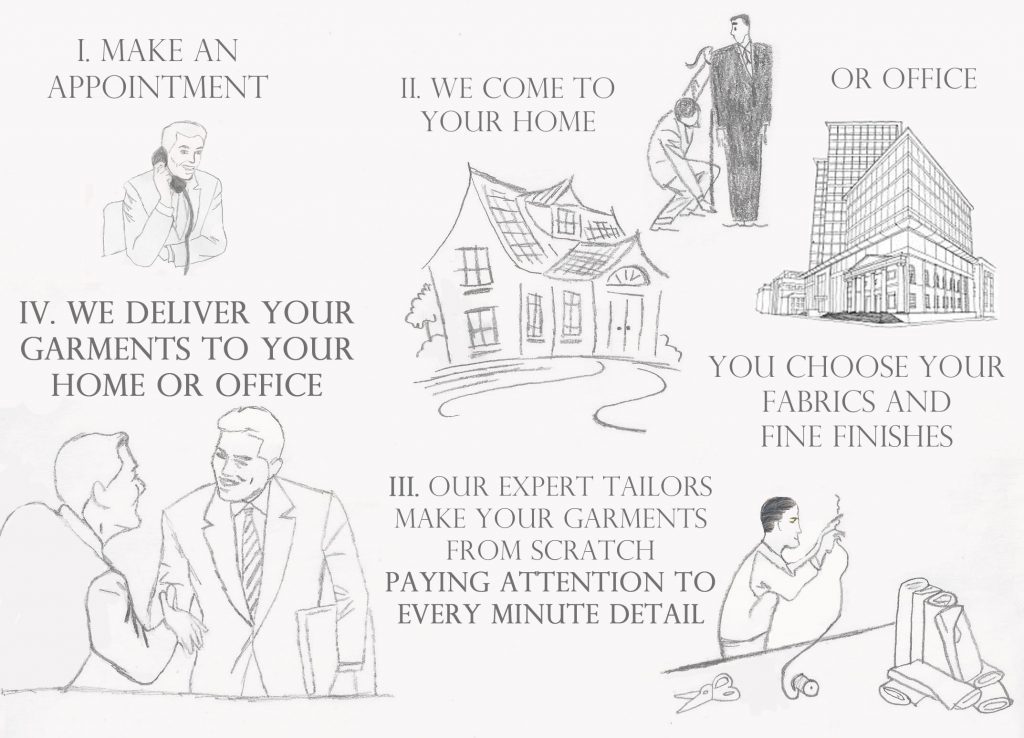 We Take Your Measurements
1